Paolo

Veronese
---
"We painters use the same license as poets and madmen."
***
Veronese, Paolo (Paolo Caliari) (1528-88) was an Italian painter of the late Renaissance, born at Verona (from which his nickname derives), but active in Venice from about 1553 and considered a member of the Venetian school. With Tintoretto he became the dominant figure in Venetian painting in the generation after Titian and he had many major commissions, both religious and secular. Veronese soon established a distinctive style. He is known as a supreme colorist, and for his illusionistic decorations in both fresco and oil. His most famous works are elaborate narrative cycles, executed in a dramatic and colorful Mannerist style, full of majestic architectural settings and glittering pageantry.
Few of his paintings are dated or can be reliably dated, so his chronology is difficult to construct. Similarly, because he had such a highly organized studio and his output was so large, there can be problems in distinguishing the work of his own hand.

Nevertheless, his status and achievement are clear. He was one of the greatest of all decorative artists, delighting in painting enormous pageant-like scenes that bear witness to the material splendor of Venice in its Golden Age. Marble columns and costumes of velvet and satin abound in his work, and he used a sumptuous but delicate palette in which pale blue, orange, silvery white, and lemon yellow predominate. He painted many religious scenes as well as mythological and allegorical works (and portraits), but his penchant was for feast scenes from the Bible rather than incidents from Christ's Passion.
His love of richness and ornament got him into trouble with the Inquisition, in a famous incident when he was taken to task for crowding a painting of the Last Supper with such irrelevant and irreverent figures as 'a buffoon with a parrot on his wrist... a servant whose nose was bleeding... dwarfs and similar vulgarities'. Veronese staunchly defended his right to artistic license: 'I received the commission to decorate the picture as I saw fit. It is large and, it seemed to me, it could hold many figures'. He was instructed to make changes, but the matter was resolved by changing the title of the picture to "Feast in the House of Levi" (1573).
Veronese's other great works include the delightfully light-hearted frescos (including illusionistic architecture and enchanting landscapes) decorating the Villa Barbaro at Maser, near Treviso (circa 1561) and the resplendent "Triumph of Venice" (circa 1585) in the ceiling of the Hall of the Great Council in the Doges' Palace, Venice.
His studio was carried on after his death by his brother and sons. He had no significant pupils, but his influence on Venetian painting was important, particularly in the 18th century, when he was an inspiration to the masters of the second great flowering of decorative painting in the city, above all Tiepolo.
---
"The Marriage at Cana" (1562-63) Oil on canvas, 669 x 990 cm - 263.4 x 389.8 in. Musée du Louvre, Paris, France.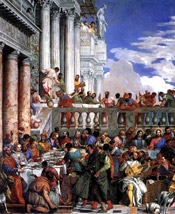 "The Marriage at Cana (detail)"
"The Marriage at Cana (detail)"
"Allegory of Wisdom and Strenght" (circa 1580) Oil on canvas, 214.6 x 167 cm - 84.5 x 65.7 in. Frick Collection, New York, USA.
"Lamentation over the Dead Christ" (circa 1547) Oil on canvas, 76 x 117 cm - 29.9 x 46.1 in. Museo Civico di Castelvecchio, Verona, Italy.
"Martyrdom of St George" (circa 1564) Oil on canvas, 426 x 305 cm - 167.7 x 120.1 in. San Giorgio in Braida, Verona, Italy.
"Martyrdom of St George (detail)"
"Martyrdom of St George (detail)"
"Jesus among the Doctors" (circa 1558 or 1566-67) Oil on canvas, 236 x 430 cm - 92.9 x 169.3 in. Museo del Prado, Madrid, Spain.
"The Resurrection of Christ" (circa 1570) Oil on canvas, 136 x 104 cm - 53.5 x 40.9 in. Gemäldegalerie, Dresden, Germany.
"St Anthony Preaching to the Fish" (circa 1580) Oil on canvas, 104 x 150 cm - 40.9 x 59.1 in. Galleria Borghese, Rome, Italy.
"Assumption" (1585-87) Oil on canvas, 472 x 302 cm - 185.8 x 118.9 in. Gallerie dell'Accademia, Venice, Italy.
"Feast in the House of Simon" (1560s) Oil on canvas, 315 x 451 cm - 124 x 177.6 in. Galleria Sabauda, Turin, Italy.
"Feast in the House of Simon (detail)"
"Feast at the House of Simon" (1567-70) Oil on canvas, 275 x 710 cm - 108.3 x 279.5 in. Pinacoteca di Brera, Milan, Italy.
"Feast in the House of Levi" (1573) Oil on canvas, 555 x 1280 cm - 218.5 x 503.9 in. Gallerie dell'Accademia, Venice, Itraly.
"Allegory of Love, IV: Happy Union" (circa 1575) Oil on canvas, 186 x 186 cm - 73.2 x 73.2 in. National Gallery, London, UK.
"Battle of Lepanto" (circa 1572) Oil on canvas, 169 x 137 cm - 66.5 x 53.9 in. Gallerie dell'Accademia, Venice, Italy.
"Gentleman in a Lynx Fur" Oil on canvas, 140 x 107 cm - 55.1 x 42.1 in. Galleria Palatina, Palazzo Pitti, Florence, Italy.
Text source: 'Webmuseum' (www.ibiblio.org/wm) and others.
Related Artists:

Related Terms: Renaissance, Foreshortening, Fresco.
---
View of the Sala del Collegio (the Hall of the College), Palazzo Ducale, Venice. The gilded ceiling frames a series of works by Veronese between 1578 and 1582. Veronese also painted the immense canvas above the throne on the end wall of the hall.
| | |
| --- | --- |
| | share this page (aged 13 or over only) |