Tintoretto
---
Tintoretto, real name Jacopo Comin (1518–1594), was an Italian painter and a notable exponent of the Venetian Renaissance school. For his phenomenal energy in painting he was termed Il Furioso. His work is characterized by its muscular figures, dramatic gestures and bold use of perspective in the Mannerist style, while maintaining color and light typical of the Venetian School. His nickname derives from his father's profession of dyer (tintore). Although he was prolific and with Veronese the most successful Venetian painter in the generation after Titian's death, little is known of his life. His real name "Comin" has only recently been discovered.

Almost all his life was spent in Venice and most of his work is still in the churches or other buildings for which it was painted. He appears to have been unpopular because he was unscrupulous in procuring commissions and ready to undercut his competitors. By 1539 he was sufficiently mature to be established independently, painting pictures composed in a traditional Venetian manner with the figures arranged parallel to the picture plane and unlinked by any strong movement or variation in the arrangement. His early masterpiece is the "Miracle of the Slave" (1548), in which many of the qualities of his maturity, particularly his love of foreshortening, begin to be distinguishable. To help him with the complex poses he favored, Tintoretto used to make small wax models which he arranged on a stage and experimented on with spotlights for effects of light and shade and composition. This method of composing explains the frequent repetition in his works of the same figures seen from different angles. He was a formidable draughtsman and he had inscribed on his studio wall the motto 'The drawing of Michelangelo and the color of Titian'.
Tintoretto had great influence on Venetian painting, but the artist who most fruitfully absorbed the visionary energy and intensity of his work was El Greco.
---
"Christ at the Sea of Galilee" (1575-80) Oil on canvas, 117 x 168.5 cm - 46.1 x 66.3 in. National Gallery of Art, Washington, D.C., USA.


"Saint Augustine Healing the Lame" (circa 1550) Oil on canvas, 255 x 174.5 cm - 100.4 x 68.7 in. Musei Civici, Vicenza, Italy.

"Saint George" (1543-44) Oil on canvas, 122 x 92 cm - 48 x 36.2 in. The Hermitage, St. Petersburg, Russia.


"Creation of the Animals" (1551-52) Oil on canvas, 151 x 258 cm - 59.4 x 101.6 in. Gallerie dell'Accademia, Venice, Italy.

"Marriage at Cana" (1561) Oil on canvas, 435 x 535 cm - 171.3 x 210.6 in. Santa Maria della Salute, Venice, Italy.

"Birth of St John the Baptist" (circa 1563) Oil on canvas, 270 x 204 cm - 106.3 x 80.3 in. San Zaccaria, Venice, Italy.

"Saint Mark Rescuing a Saracen from Shipwreck" (1562-66) Oil on canvas, 398 x 337 cm - 156.7 x 132.7 in. Gallerie dell'Accademia, Venice, Italy.


"Minerva Sending Away Mars from Peace and Prosperity" (1576-77) Oil on canvas, 148 x 168 cm - 58.3 x 66.1 in. Palazzo Ducale, Venice, Italy.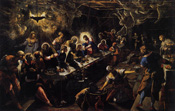 "The Last Supper" (1592-94) Oil on canvas, 365 x 568 cm - 143.7 x 223.6 in. San Giorgio Maggiore, Venice, Italy.

"Portrait of Jacopo Sansovino" (1571) Oil on canvas, 70 x 66 cm - 27.6 x 26 in. Galleria degli Uffizi, Florence, Italy.
---
Text source: 'Webmuseum' (www.ibiblio.org/wm).
Related Artists:

Related Terms: Renaissance, Mannerism, Foreshortening.

---

View of the Hall of the Senate. Palazzo Ducale, Venice, Italy.

| | |
| --- | --- |
| | share this page (aged 13 or over only) |