Alfred

Sisley
---
"Though the artist must remain master of his craft, the surface, at times raised to the highest pitch of loveliness, should transmit to the beholder the sensation which possessed the artist."
***
Sisley, Alfred (1839-1899), was a French-born English Impressionist landscape painter who was born, and spent most of his life, in France. Sisley is generally recognized as the most consistent of the Impressionists in his dedication to painting landscape en plein air. He never deviated into figure painting and, unlike Renoir and Pissarro, never found that Impressionism did not fulfill his artistic needs.

Sisley was born in Paris of English parents. After his schooldays, his father, a merchant trading with the southern states of America, sent him to London for a business career, but finding this unpalatable, Sisley returned to Paris in 1862 with the aim of becoming an artist. His family gave him every support, sending him to Gleyre's studio, where he met Renoir, Monet and Bazille. His style at this time was deeply influenced by Courbet and Daubigny, and when he first exhibited at the Salon in 1867 it was as the pupil of Corot.
By this time, however, he had started to frequent the Café Guerbois, and was becoming more deeply influenced by the notions which were creating Impressionism. During the Franco-Prussian war and the period of the Commune, he spent some time in London and was introduced to Durand-Ruel by Pissarro, becoming part of that dealer's stable. In the mean time, his father had lost all his money as a result of the war, and Sisley, with a family to support, was reduced to a state of penury, in which he was to stay until virtually the end of his life.
He now saw himself as a full-time professional painter and part of the Impressionist group, exhibiting with them in 1874, 1876, 1877 and 1882. His work had by this time achieved complete independence from the early influences that had affected him. In the 1870s he produced a remarkable series of landscapes of Argenteuil, where he was living, one of which was bought by Manet. Towards the end of the decade Monet was beginning to have a considerable influence on him, and a series of landscape paintings of the area around Paris, including Marly, Bougival and Louveciennes, shows the way in which his dominant and evident lyricism still respects the demands of the subject-matter. From his early admiration for Corot he retained a passionate interest in the sky, which nearly always dominates his paintings, and also in the effects of snow, the two interests often combining to create a strangely dramatic effect. Naturally different, he did not promote himself in the way that some of his fellow Impressionists did, and it was only towards the end of his life that he received something approaching the recognition he deserved.
---
"The Seine at Bougival in Winter" (1872) Museum of Fine Arts, Lille, France.


"Flood at Port-Marly" (1876) Oil on canvas, 60 × 80 cm - 23.6 × 31.5 in. Musée des beaux-arts, Rouen, France.

"Regatta at Hampton Court" (1874) Oil on canvas.

"Early Snow at Louveciennes" (circa 1871-72) Oil on canvas. Museum of Fine Arts, Boston, Massachusetts, USA.

"Bridge at Villeneuve-la-Garenne" (1872) Oil on canvas. Metropolitan Museum of Art, New York City, NY, USA.

"Footbridge at Argenteuil" (1872) Oil on canvas, 39 × 60 cm - 15.4 - 23.6 in. Musée d'Orsay, Paris, France.

"Chemin de la Machine, Louveciennes" (1873) Oil on canvas, 54.5 x 75 cm - 21.5 x 29.5 in. Musée d'Orsay, Paris, France.

"Regatta at Molesey" (1874) Oil on canvas, 66 × 91.5 cm - 26 x 36 in. Musée d'Orsay, Paris, France.

"Snow on the Road, Louveciennes (Chemin de la Machine)" (1874) Oil on canvas, 38 x 56 cm - 15 x 22 in. Private collection.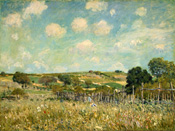 "Meadow" (1875) Oil on canvas, 54.9 × 73 cm - 21.6 × 28.7 in. National Gallery of Art, Washington, D.C., USA.
---
Text source: 'Webmuseum' (www.ibiblio.org/wm) and others.
Related Artists:

Related Terms: Impressionism, Plein air.
| | |
| --- | --- |
| | share this page (aged 13 or over only) |