Aert

de Gelder
---
Gelder, Aert de (1645-1727). Dutch painter, active mainly in his native Dordrecht.

After studying there with Hoogstraten, he became one of Rembrandt's last pupils in Amsterdam. He was not only one of the most talented of Rembrandt's pupils, but also one of his most devoted followers, for he was the only Dutch artist to continue working in his style into the 18th century. His religious paintings, in particular, with their imaginative boldness and preference for oriental types, are very much in the master's spirit, although de Gelder often used colors, such as lilac and lemon yellow, that were untypical of Rembrandt, and his palette was in general lighter. One of his best-known works, "Jacob's Dream", was long attributed to Rembrandt.
---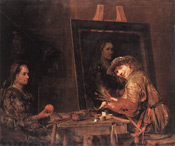 "Self-Portrait at an Easel Painting an Old Woman" (1685) Oil on canvas, 142 x 169 cm - 55.9 x 66.5 in. Städelsches Kunstinstitut, Frankfurt, Germany.


"Ahimelech Giving the Sword of Goliath to David" (1680s) Oil on canvas, 85.1 x 132.1 cm - 35.5 x 52 in. Getty Museum, Los Angeles, California, USA.

"King David" (circa 1683) Oil on canvas, 109.5 × 114.5 cm - 43.11 × 45.08 in. Rijksmuseum, Amsterdam, The Nederlands.


"Wandering Musician" (1690s) Oil on canvas, 139 x 99 cm - 54.7 x 39 in. The Hermitage, St. Petersburg, Russia.

"Simeon's song of praise" (circa 1700-10) Oil on canvas, 94.5 × 107.5 cm - 37.2 × 42.32 in. Mauritshuis, Den Haag, The Nederlands.

"On the Way to Golgatha" (4th quarter of 17th century) Oil on canvas, 72 × 60 cm - 28.3 x 23.6 in.
---
Text source: 'Webmuseum' (www.ibiblio.org/wm).
Related Artists:

Related Terms: Baroque, Chiaroscuro.

| | |
| --- | --- |
| | share this page (aged 13 or over only) |